News
PRESIDENT SERZH SARGSYAN HAS ARRIVED ON A WORKING VISIT TO POLAND
08.07.2016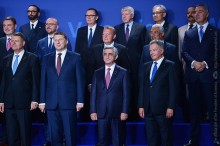 President Serzh Sargsyan has arrived to the Republic of Poland where he will participate at the meeting of the Heads of State and Government of the NATO member and non-member states dedicated to the Resolute Support mission in Afghanistan.
The meeting will be held in framework of the NATO Summit. At the venue of the Summit, the Heads of the delegations were greeted by the Secretary General of NATO Jens Stoltenberg and President of Poland Andrzej Duda.
In Warsaw, the President of Armenia will meet with the US Secretary of State John Kerry.