News
Prime Minister's Working Visit to Russia Wrapped Up
09.07.2016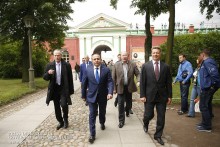 On a working visit to the Russian Federation, Prime Minister Hovik Abrahamyan visited the Petropavlovsk Fortress in St. Petersburg with Russian co-chair of the Armenian-Russian Intergovernmental Commission for Economic Cooperation, RF Transport Minister Maxim Sokolov.
The Prime Minister toured the castle getting familiar with its history. Hovik Abrahamyan and Maxim Sokolov attended the traditional midday salvo, fired by Hovik Abrahamyan.
After signing the book of honorable guests, Hovik Abrahamyan attended a military parade. The Premier next visited the central Kamsky Park in the Vasileostrovski administrative district, laid a wreath at the monument to Komitas, paying tribute to the great composer's memory.
Note that the monument to Komitas was inaugurated last November in St. Petersburg as part of Armenian Genocide 100th anniversary commemorations.
3.3 meters high, pinned on a 1.7 meter-wide granite pedestal, the monument of Komitas was authored by member of Russia's Artists Union, Associate Professor at St. Petersburg's Artistic and Industrial Academy Levon Beybutyan and architect Maxime Atayants.
Hovik Abrahamyan also visited the Armenian church of St. Catherine in St. Petersburg, met with local community representatives. In his speech he touched upon Armenia's domestic and foreign policies, the economic situation, the Karabakh conflict settlement process, after which he answered numerous questions of interest to our compatriots.
The Prime Minister noted with satisfaction that our compatriots in St. Petersburg have been maintaining high the reputation of our nation and making great contributions to the development of Russia with their civic, economic, cultural activities.