News
Mayor Taron Margaryan met with the member of Glendale City Council Vardan Garpetyan
09.07.2016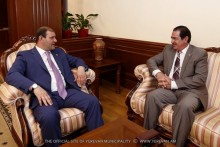 Yerevan Mayor Taron Margaryan met with the member of the City Council of Glendale (Carifornia,USA) Vardan Garpetyan.
Greeting the guest the Mayor stressed the importance of active participation of our compatriots in the USA administration, particularly in Glendale, which certainly promotes strengthening and expansion of bilateral ties. "Yerevan and Glendale have a big potential from the point of view of the implementation of joint programs. I am sure that being interested in the expansion of relationship between the two cities you will have a direct participation in the implementation of joint programs", said Taron Margaryan.
Having thanked the Mayor for warm welcome and cooperation willingness Vardan Garpetyan noted that every time he visits Yerevan he sees positive changes, particularly outlining the safe city environment which is certainly the result of consistent work of the city authorities. Attaching importance to active interaction between Yerevan and Glendale in all spheres of urban economy Vardan Garpetyan in his turn added that taking the office of the mayor of Glendale next year he will do his best to expand and develop the cooperation between the cities.