News
Galust Sahakyan receives Bulgarian Ambassador
13.07.2016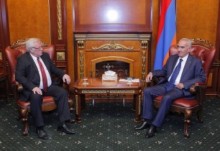 On July 13, the RA NA Speaker Galust Sahakyan received Ambassador Extraordinary and Plenipotentiary of Bulgaria Georgi Karastamatov completing his diplomatic mission in the Republic of Armenia .
The Head of the Parliament expressed thankfulness to Georgi Karastamatov for the favourable cooperation during his tenure in Armenia and wished him success in his later activities.
Galust Sahakyan emphasized the role of parliamentary diplomacy from the perspective of strengthening bilateral relations and deepening of cooperation. In this context he highlighted the role of the Armenia-Bulgaria friendship group.
Touching upon the cooperation in various interparliamenary assemblies, the NA Speaker expressed confidence that the Armenian and Bulgarian delegations will come up with balanced mutual approaches on international platforms.
Georgi Karastamatov , expressing gratitude for the reception, assured he has done his best for the intensificationand deepening of cooperation between the two counties during his tenure.
The ambassador highly assessed the close work of the two parliamenary friendship groups, as well as spotlighted the deepening of their interaction on various international parliamntary platforms.
Talking about the Armenian community in Bulgaria, he assured that the Armenians are preserved there: they live and create like full citizens of Bulgaria.
During the meeting it was mutually emphasized that the longlasting friendship between the Armenian and Bulgarian nations, cultural connections serve as favourable basis for the cooperation development between the two states.