News
Welfare Package Component to Feature in 2017 State Budget Bill
14.07.2016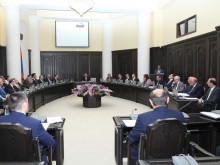 A regular Cabinet meeting was held today, chaired by Prime Minister Hovik Abrahamyan.
Note that on March 24, 2016, the Prime Minister suggested that the Audit Chamber probe into the recreational component of the welfare package. Head of Audit Chamber Ishkhan Zakaryan briefed the meeting on the findings of their probe, which covered hotel networks in major tourist centers of Tsakhkadzor, Dilijan, Jermuk, Aghveran, Arzni, Artavaz and Hankavan. The probe has revealed irregularities to a total amount of AMD300 million.
The Audit Chamber suggested that the Government should revise the provisions relating to the recreational component of the welfare package in order to prevent incidences of illegal cash payments to beneficiaries under the subsidized component.
Summarizing the issue, Prime Minister Hovik Abrahamyan reminded that at latest Cabinet sitting as the Government discussed the draft medium-term expenditures program for 2017-2019, he suggested suspending the recreational component pending further research, which gave rise to numerous ill-founded interpretations on different platforms.
"The decision of suspension stemmed from the outcome of the aforementioned study. The welfare package will stand throughout 2016, and we see no reason to call off spending for the running year.
Instruction is out for three ministries to develop a new toolkit for exercising closer monitoring of the whole process. Note that the Government is set to put up the recreational component for discussion during the 2017 State budget bill debate," the Premier said.
A number of communities in Aragatsotn, Armavir and Lori Marzes were affected by heavy rains and hailstorms in June-July, 2016, with serious damages inflicted on residential buildings and other facilities, roads, bridges and retaining walls.
The Government allocated AMD104 million to remedy the damage caused by the disaster, as well as to install 22 anti-hail stations in Armavir and 6 in Aragatsotn marzes in order to prevent similar damage in the future. Estimates are being made to provide compensation for losses incurred by the affected farmers.
The Government earmarked 22.5 million drams for the Police to get a computer server and a software package for taking 10-finger fingerprints of those citizens bidding for biometric identity cards and passports in accordance with the proposed amendments to the laws On Identity Cards and On Citizen Passports as of September 1, 2016. The new software package is to be introduced in the shortest possible period of time, until this August 20.
As Prime Minister Hovik Abrahamyan noted, the Government is thereby complying with the commitment assumed under the new Electoral Code.
The meeting approved the charter and the structure of the Ministry of Justice Probation Service. The Service will consist of central, municipal (Yerevan) and regional authorities.