News
Galust Sahakyan Receives Ambassador of Kuwait
26.07.2016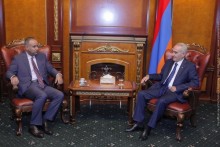 On July 26, the Speaker of the RA National Assembly Galust Sahakyan received Ambassador Extraordinary and Plenipotentiary of the State of Kuwait to the RA Bassam Mohammad Alqabandi, who completes his diplomatic mission in the Republic of Armenia.
Welcoming the Ambassador, Galust Sahakyan highly asessed his activities in Armenia and noted that due to his work positive moves had been recorded in the Armenian-Kuwaiti relations. The NA Speaker underlined that the dialogue existing between the two states had been activated enough during recent years. The Head of the Parliament attached great importance to the further strengthening of the inter-parliamentary ties of the two states, as well as the development of the cooperation in a number of spheres. Galust Sahakyan expressed hope that the friendly relations existing between Armenia and Kuwait will continue developing also during the tenure of the new Ambassador.
Bassam Mohammad Alqabandi, thanking for the warm reception and effective cooperation lasting for many years, has noted that he is leaving Armenia with good memories.
Touching upon the bilateral relations, the Ambassador has assured that they are on stable bases and they continue to develop. Bassam Mohammad Alqabandi also emphasized the deepening of the inter-parliamentary cooperation and the implementation of the joint programmes in a number of spheres.
In the course of the meeting the work of the Friendship Groups, the bilateral contacts and the development of the trade-economic cooperation were highlighted.
At the end of the meeting the NA Speaker wished the Ambassador new successes.