News
Prime Minister Visits Tavush Marz
27.07.2016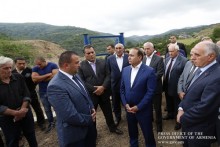 Prime Minister Hovik Abrahamyan paid a working visit to Tavush Marz of Armenia.
The Prime Minister first visited Azatamout community, where he was briefed on the pace of the ongoing kindergarten reconstruction activities. Note that the Armenia Regional Development Fund has invested AMD182 million, while the community has contributed AMD6.5 million to the project. Interior decorations are being implemented currently. The refurbished kindergarten will be commissioned before the end of the year. The Head of Government took the opportunity to meet with the local population in order to learn of their problems and answer their questions.
Hovik Abrahamyan next visited Baghanis, where the drinking water supply system is being refurbished at this point of time. It was reported that the Rural Areas Economic Development PIU had allocated 263 million drams for the reconstruction of the 16 km-long water supply system. The project is supposed to give a final solution to the problem of drinking water in the community.
The Premier left Baghanis for Bagratashen border checkpoint to inspect the ongoing construction activities. He was told that development, exterior and interior decoration and utility installation work is already complete at Bagratashen checkpoint.
The project is expected to come to its final stage late in August. The new checkpoint will be furnished with modern sounding-screening equipment. Human intervention will be minimized. Citizens and economic operators will be able to cross the checkpoint within a short time, and border crossings will be conducted more smoothly and quickly. Hovik Abrahamyan emphasized the importance of providing citizens with modern border crossing facilities and high-quality services.
The Premier next visited Deghdzavan community to inspect the procurement process. Hovik Abrahamyan was told that fruit from Deghdzavan and neighboring communities is exported immediately, and farmers are paid on the spot.
During his visit, Hovik Abrahamyan called on Sahakyans large family in Ijevan. The family of six children has received a new apartment with the support of the Government of Armenia and MP from Tavush constituency Hakob Hakobyan.