News
The issue of trade regulation in the area of "Vernissage" will be taken under more rigid control
01.08.2016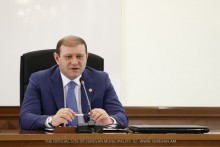 During the weekly working meeting in the City Hall Mayor Taron Margaryan was reported that as a result of the activities carried out the previous week to prevent illegal construction and land occupation 8 cases had been revealed and administrative protocols had been drawn up; at two addresses the illegal constructions had been dismantled. The Mayor instructed to carry on more rigid control acting in teamwork with the administrative districts and police.
Concerning illegal open-air trade prevention the head of the Department of trade and Services reported that 7 cases had been revealed the previous week. 2 non-operating stalls were dismantled in the mentioned period. Taking into account the season activation of illegal trade it was instructed to strengthen the control and pay special attention to proper organization of agricultural markets in the capital.
Regarding the measures taken towards prevention of waste dumping in inappropriate places it was reported that 80 administrative protocols had been drawn up. It was instructed to to make the supervision over waste removal more rigid.
During the meeting it was also reported that the reconstruction of "Vernissage" is going on in accordance with the schedule. In parallel, the activity of the persons engaged in trade in the area of "Vernissage" is being organized in the area adjacent to "Hrazdan" stadium. The Mayor instructed to supervise the process of construction and to carry on explanatory work regarding trade regulation with the leasing company.
"See to it that the activities provided by the first stage will be over in accordance with the schedule and in proper quality. In parallel, carry out explanatory work with the company leasing the area to exclude selling the goods not determined for sale in this area. Be consistent and strict in this regard", said the Mayor.
The head of the Department of Communal Services reported that all fire hydrants of the capital had been inventories by the working group, and their technical condition had been checked. By the end of August 381 hydrants will be re-operated in the capital.
Mayor Taron Margaryan instructed to include presence of fire hydrants in obligatory requirements for large urban development projects and building permissions for blocks of flats and to provide final acts only in case of presence of the hydrants. it was also instructed to keep this process under permanent control.