News
Mayor Taron Margaryan handed thanksgiving diplomas to Yerevan families participated in "Best sport family 2016"competition
04.08.2016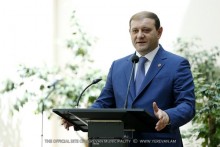 Yerevan Mayor Taron Margaryan hosted the families of Yerevan team participated in "Best sport family 2016" competition for the RA President's Prize and won it. Congratulating the families the Mayor thanked them for bringing the winner's cup to Yerevan once again and stressed that the main guarantee of success is a united family and a desire to win.
"Our meetings after Yerevan team's coming back as the winner of "Best sport family" competition for the RA President's Prize have become a good tradition. This tradition was formed by you with your sport loving families and children. Due to you Yerevan has been recognized the best for the first year running and all of us are proud of it. We are also proud of having such sport loving families who love their city, are fond of healthy lifestyle and present Yerevanians such victories. I congratulate you on behalf of Yerevan residents and the Municipality staff and assure that we will always be next to your families and will do our best to increase the number of sport loving families in Yerevan", said Taron Margaryan adding that Yerevan Municipality will go on the consistent policy aimed at the improvement of facilities in community sport schools and at the activation of sport life in the capital.
For upholding the sport honour of Yerevan at the final stage of the republican competition "Best sport family" for the RA President's Prize all participating families were awarded with Yerevan Mayor's thanksgiving diplomas and souvenirs. For best providing the proper participation of Yerevan team Yereva Mayor's thanksgiving diplomas were also given to the coaches and to the representative of Yerevan sport delegation Ara Baghramyan.
The Santrosyans family participated in the competition for 12 years, which have been the captain of Yerevan team for all these years will not participate in the competition any more so, during the ceremony they handed the symbolic armband of the captain to the Margaryans family. At the end of the meeting the RA President's Cup was handed to Yerevan Municipality to be kept there.