News
PRESIDENT HELD A FAREWELL MEETING WITH THE AMBASSADOR OF KUWAIT
09.08.2016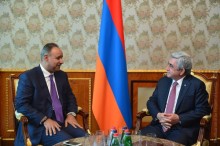 President Serzh Sargsyan received the Ambassador Extraordinary and Plenipotentiary of the State of Kuwait to the Republic of Armenia Bassam Muhammad Alqabandi who is concluding his diplomatic tenure in our country.
The President of Armenia thanked Ambassador Alqabandi for the work carried out during his tenure and highly praised the consistent efforts of the Ambassador for the last four years aimed at the strengthening of the bilateral ties which allowed to elevate the Armenian-Kuwaiti relations to a qualitatively new level. The President of Armenia expressed hope that the next Ambassador of Kuwait to our country will work with the same dedication and enthusiasm to expand and deepen the bilateral relations of the two friendly states. Serzh Sargsyan wished success to Bassam Muhammad Alqabandi in his future endeavors and expressed hope that in Armenia he will always be viewed as a friend.
Ambassador Alqabandi thanked the President of Armenia for hospitality and for the high assessment of his activities. He noted that success in our bilateral relations would not be possible without the assistance of the President of Armenia, Armenian Government and other partners. The Ambassador also said that during his tenure in Armenia he has learned a lot from the Armenian people.
The parties underscored the importance of developing trade and economic relations between Armenia and Kuwait.