News
Prime Minister Receives U.S. Ambassador to Armenia and Newly Appointed Head of USAID Armenia Office
10.08.2016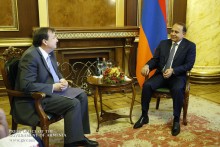 Prime Minister Hovik Abrahamyan received U.S. Ambassador to Armenia Richard Mills and newly appointed Head of USAID Armenia Office Ms Deborah Griesser.
Congratulating Deborah Griesser on appointment, Prime Minister Hovik Abrahamyan expressed confidence that her experience will enable to organize the activities of the USAID Armenia office in the best possible way.
The Premier hailed the work done by the USAID Armenia office, including those multifaceted programs implemented over the past few years. Noting that several joint projects are in process at this point of time, Prime Minister Hovik Abrahamyan said the Armenian government is ready to discuss the possibility of implementing new projects with the United States.
Richard Mills highlighted the ongoing cooperation with the Armenian government for the benefit of Armenia's economic development and the furtherance of bilateral trade and economic relations. The Ambassador singled out tourism and agriculture as prospective areas, noting that possibilities and proposals are being discussed with a view to including new components in the projects relevant to these sectors.
Appreciating the assistance provided by the United States, Prime Minister Hovik Abrahamyan said his government ready to take practical steps to achieve success in the aforementioned areas.
During the meeting, Hovik Abrahamyan and Richard Mills discussed a number of other issues of mutual interest.