News
PM Inspects Construction of Radioisotope Generation and Molecular Diagnostics Center
06.09.2016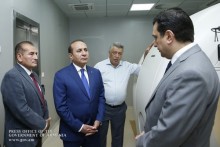 Prime Minister Hovik Abrahamyan visited the site where the Radioisotope Generation and Molecular Diagnostics Center (RMDC) is being built. Note that the oncology excellence center investment project has three phases: molecular diagnostics and radiopharmaceutical production center, radiation therapy and chemotherapy center and a surgical center. The program is implemented by Global Medical Solutions Inc., which is one of the world's leading companies in the field of nuclear medicine and diagnostic imaging services.
During the tour, the Premier was briefed on the progress in construction of the radiopharmaceutical production and molecular diagnostics center. The Prime Minister was told that the process is in its final stage: installation of modern diagnostic equipment and external decoration. The design estimate for the radiation treatment center is already complete, and a tender is going to be announced in a month to pick out a contractor for the construction and purchase of equipment.
Noting that the establishment of an international standards-compliant center is crucial to the prevention, early detection and treatment of cancer, the Premier instructed those responsible to be consistent in ensuring high quality and timely implementation of the project.
A consultation was next held in the Office of Government, attended by Chief of Government Staff Davit Haroutunyan, Minister of Healthcare Armen Muradyan, Deputy Minister of Healthcare Gagik Mirijanyan and Global Medical Solutions President and CEO Haig Bagerdjian, during which they discussed ongoing activities and future action.