News
THE NEWLY APPOINTED AMBASSADOR EXTRAORDINARY AND PLENIPOTENTIARY OF GREECE TO THE REPUBLIC OF ARMENIA NAFSIKA NANCY EVA VRAILA PRESENTED HER CREDENTIALS TO THE PRESIDENT
06.09.2016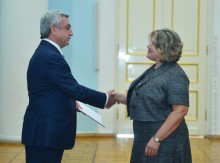 Today, the newly appointed Ambassador Extraordinary and Plenipotentiary of the Hellenic Republic to the Republic of Armenia Nafsika Nancy Eva Vraila presented her credentials to President Serzh Sargsyan.
The President of Armenian congratulated the Ambassador on assuming the office and wished her success. President Sargsyan stressed the importance of the diplomatic representatives in the development of the interstate relations and noted that with regard the newly appointed Ambassadors in Greece and Armenia are expected to give a boost and strengthen the bilateral relations through the new initiatives.
The interlocutors concurred that there is still much to be done to elevate the relations between the Armenian and Greek peoples, which have deep historical roots and are manifested constantly in the acts of friendship and mutual trust, to a proper level. With this regard they highlighted a more active role of the intergovernmental commission, deepening along with the political dialogue of the trade and economic relations in the multiple mutually beneficial areas.
The President of Armenia and Ambassador of Greece ascribed a great role in the development of the relations between the two friendly states to parliamentary diplomacy.
Ambassador Nafsika Nancy Eva Vraila conveyed to President Sargsyan warm greetings from the President of Greece Pavlopoulos and his readiness to accept the invitation of President Sargsyan to visit Armenia. She added that in Athens they recall warmly Armenian President's visit to Greece at the beginning of the year which gave a new impetus to the interstate relations.
The parties discussed also possibilities and existing huge potential for the development of the Armenian-Greek cooperation in the bilateral and multilateral formats.