News
Mayor Taron Margaryan met with the wrestlers of the Greco-Roman style won in the 31st Olympic Games in Rio de Janeiro
06.09.2016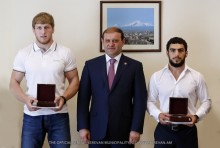 Mayor Taron Margaryan met with the Greco-Roman wrestlers won in the 31st Olympic Games and with their coaches. Greeting the guests Yerevan Mayor first congratulated them on winning and thanked them for upholding the honour of Armenia.
"I congratulate you and all of us on my behalf and on behalf of Yerevan Municipality. Be sure that our nation is proud of you. On those days we altogether were watching your battles and a great enthusiasm was reigning everywhere. Thank you for giving us the feeling of victory. I am also grateful to your coaches who can train such champions. Congratulating all of us once again I wish you a lot of new achievements and Olympic heights", said the Mayor.
Expressing gratitude for warm welcome and good wishes the chief coach of the national team of Greco-Roman wrestling of Armenia Levon Julfalakyan in his turn outlined that appreciation and permanent support shown to Armenian sportsmen are really important and make feel more responsibility. We will certainly carry on doing our best to uphold the honour of our homeland", said Levon Julfalakyan.
The RA honorary coach Gevorg Aleksanyan who is the personal coach of the Olympic champion Arthur Aleksanyan, attached particular importance to the consistent policy of Mayor Taron Margaryan aimed at sport development in the capital.
"Providing of necessary condition and permanent support are highly important for having future champions. And taking the opportunity I want to thank you, Mr Mayor, for keeping at the focus of attention the problems of renovation and modernization of the sport schools of Yerevan. We witness and appreciate it periodically while participating in various competitions and gatherings in Yerevan and we are sincerely glad that such caring treatment to sport exists in the capital of Armenia", said Gevorg Aleksanyan.
Mayor Taron Margaryan assured that the Municipality is willing to show any support within its powers to Armenian sportsmen to assist them in achieving new heights.