News
PRESIDENT SERZH SARGSYAN RECEIVED DELEGATION OF FRENCH PARLIAMENTARIANS
09.09.2016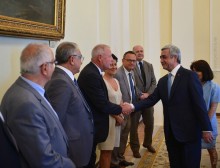 President Serzh Sargsyan received today delegation headed by the Chairman of the Socialist fraction of the French National Assembly Bruno le Roux.
The President of Armenia welcomed yet another visit of the French parliamentarians to our country and underscored that Armenia is proud of her special relations with France and the warm friendship which is considerably promoted by a close interparliamentary cooperation. "In the person of Mr. Le Roux, I would like to highlight the consistent work of numerous French parliamentarians. That work in the French Parliament not only promotes the Armenian-French interparliamentary ties but strengthens the interstate cooperation in general," said President Sargsyan.
The President of Armenia thanked the friendly France for constantly supporting Armenia on the vital for our country issues. In that context President Sargsyan assessed as indispensable the contribution of France to the international recognition and condemnation of the Armenian Genocide and expressed deep gratitude to the people and authorities of France and stressed the persistent works aimed at the adoption of the law on the criminalization of the denial of the Armenian Genocide.
Speaking with satisfaction about regular reciprocal visits and active contacts, Serzh Sargsyan underscored that the agenda of the Armenian-French relations is so extensive that even frequent meetings do not exhaust the number of important and vital issues which need to be discussed.
Bruno le Roux conveyed to the President of Armenia warm greetings of the President of France François Hollande and at the meeting, which has already become a tradition, discussed opportunities for the deepening of the Armenian-French interparliamentary cooperation as well as the steps aimed at further strengthening of the relations between the two friendly countries and peoples.
The Chairman of the Socialist fraction of the French National Assembly recalled warmly the last year's meeting of the delegation headed by him with the President of Armenia. At the meeting, at the request of the French parliamentarians Serzh Sargsyan presented the process and objectives of the constitutional reforms. Bruno le Roux noted that he was glad to see that the President of Armenia – at that time a fervent advocate of the reforms, today too continues to steady follow that course. The French parliamentarians inquired about Serzh Sargsyan's position on the implementation of the institutional reforms in Armenia.
At the meeting the parties referred also to the NK peace process. The President of Armenia praised the balanced position of France on the NK issue and her active role as a Co-Chair of the OSCE Minsk Group. He highlighted personal efforts of the friend of the Armenian people President François Hollande in moving the peace negotiations forward.