News
RPA Youth representative, elected Co-Chair of EDS Standing Committee on Humans rights, in Brussels participated in the meeting of Co-Chairs
13.09.2016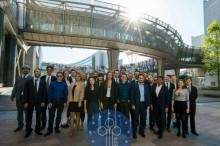 The EDS leadership meeting, held in Brussels, has been finished. It should be mentioned, that the member of RPA Youth Organization Anna Ohanyan was elected Co-Chair of EDS Standing Committee on Humans rights.
The meeting aimed at developing a strategy for the implementation of future activities.
Within the framework of the meeting the participants visited Press Centre of the European Parliament and got familiarized with its activities, as well as held a meeting with the editorial staff of BullsEye magazine, published by EDS.
The future working agenda was formed and working topics were defined.