News
Member of RPA Youth Organization represented current issues and opportunities of the Armenian youth at Global Youth Leadership Forum
19.09.2016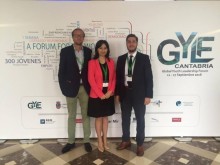 On 11-17 September in Santander city /Spain/ Global Youth Leadership Forum was held. About 300 young leaders participated in it. RPA Youth Organization was represented by the Head of the Foreign Affairs Committee of RPA YO, DEMYC Vice-President Lilit Beglaryan.
The Forum is created with the aim to become a unique forum of debate and discussion where prominent personalities, experts, entrepreneurs, representatives of different countries and international agencies will meet young proactive leaders called to hold important public or private responsibilities within their countries in all areas (policy, economy, culture, social, etc). The initiative is intended to create an exceptional space for horizontal, plural and democratic dialogue that responds the major challenges our planet is dealing with.
12 Plenary Sessions were held within the framework of the Forum on the following topics: education, co-operation, security, economy, sustainable development, globalization, youth challenges, leadership etc.
At the course of the program there were held debates on new technologies, unemployment, tourism, economic growth, international organizations, globalization, educational challenges of the 21th century, democracy, regional co-operation, migration, national and international security, youth leadership, entrepreneurship and other current issues.
At the course of the key debate the representative of RPA YO touched upon the achievements and issues of the Armenian Youth, representing possible ways and variants of their solution.
It should be mentioned that the forum will be held annually.