News
NEWLY APPOINTED AMBASSADOR OF MOLDOVA TO ARMENIA RUSLAN BOLBOCHAN HANDS CREDENTIALS TO THE PRESIDENT
23.09.2016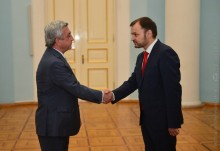 Newly appointed Ambassador Extraordinary and Plenipotentiary of the Republic of Moldova to the Republic of Armenia Ruslan Bolbochan handed today his credentials to President Serzh Sargsyan (residence in Kiev).
The President of Armenia congratulated the Ambassador on assuming office and wished him every success in his diplomatic mission in our country. Stressing that the two countries have good interstate relations, the President noted the importance of multifaceted cooperation, for which he prioritized the diplomatic mission's activities. Serzh Sargsyan expressed the hope that the newly appointed Ambassador may boost and give a new impetus to the relations between Armenia and Moldova.
Ruslan Bolbochan said it is a great honor and responsibility for him to carry out diplomatic mission in Armenia and went on to assure that he would do everything possible to ensure that progress in all areas of mutual interest is visible in the near future. In this context, Ambassador Bolbochan highlighted the activities of the Armenian-Moldovan intergovernmental commission on economic issues.
President Serzh Sargsyan emphasized the need for cooperation in vital and sensitive issues based on the respect of each other's interests, including in the framework of international organizations.