News
Yerevan Mayor Taron Margaryan meets with Stepanakert Mayor
24.09.2016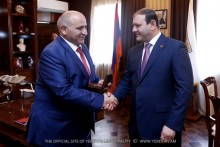 Yerevan Mayor Taron Margaryan who is in Artsakh to take part in the celebration of the 93rd anniversary of Stepanakert foundation, met with Stepanakert Mayor Suren Grigoryan.
Greeting the Mayor of Yerevan Stepanakert Mayor first of all thanked Taron Margaryan for accepting the invitation and noted that this is another fine opportunity to discuss the process of realization of confirmed programs and further cooperation between the capitals of the two countries.
"I am happy to welcome you in Stepanakert again, mister Mayor. The foundation day of the city is a festive day not only for Stepanakert residents but for all Armenians of Artsakh. I am grateful to you for accepting my invitation and being here on this day so important for us. It's one more step aimed at further strengthening and expansion of effective cooperation between the two capitals. I am sure that this day will be interesting for you and for our colleagues from Yerevan and you will return to Yerevan full of good impressions", said Suren Grigoryan.
Expressing gratitude for warm welcome and congratulating on the 93rd anniversary of Stepanakert foundation Taron Margaryan once gain assured that Yerevan Municipality is always ready to assist Stepanakert in the realization of joint projects in various sectors of urban economy.
"It's pleasant to outline, Mister Mayor, that every year Stepanakert marks the City Day in more improved conditions which witnesses the consistent work of the city authorities and the caring attitude of Stepanakert townspeople. Festive mood is really visible in Stepanakert and I am sure that in future the capital of Artsakh will mark this day with new achievements", said Taron Margaryan.
At the end of the meeting Yerevan Mayor invited his Stepanakert colleague to visit Yerevan on October 8 to take part in "Erebuni-Yerevan 2798" celebration.