News
Three-day program «Armenian leadership academy» was held with Young Republicans
26.09.2016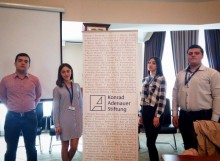 On 23-25 September in Tsaghkadzor a program "Armenian Leadership Academy 2016" was held by joint initiaitve of the Konrad-Adenauer-Stiftung (KAS) and Max van der Stoel and Eduardo Frei Foundations. It was attended by the youth representatives of the RA 7 parliamentary parties. Anna Khachikyan, Diana Adamyan, Haykaz Shahnazaryan and Ruben Tovmasyan represented the Republican Party of Armenia.
At the course of the seminar discussions were held on party programs, ideologies, values, political campaignes, strategies and effective menace of communication. The theoretical part of the program was followed by a practical one.
During inidividual and team works the participants made analysis of politicial programs by Arena and Swot methods, wrote slogans and made videoes of political messages.