News
Issues related to investment programs are discussed
27.09.2016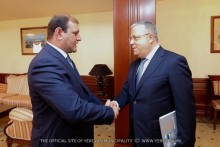 Yerevan Mayor Taron Margaryan met with the owner of the Lebanon company "AZPro" Said Tauk. Presenting the program of reforms aimed at the improvement of urban economy management Mayor Taron Margaryan noted that Yerevan Municipality attaches importance to the realization of joint projects with private sector and stressed that in this regard they are also ready to establish mutually beneficial cooperation.
"Serious steps are being taken in the capital to attract investments and to improve business environment, and we attach importance to implementation of concrete projects. Within its powers Yerevan Municipality is ready to discuss concrete programs of cooperation and to assist in their implementation", said Mayor Taron Margaryan.
Expressing gratitude for warm welcome the owner of "AZPro" Said Tauk highly appreciated the Mayor's approaches to the city economy management and assured that their company is also ready to take part in implementation of investment programs in Yerevan.
"Our company is well-known in the sphere of construction of parks, playgrounds, living and commercial buildings, as well as in the sphere of development. We build and put into operation parks in Lebanon and Saudi Arabia and entertainment parks in the region of the Middle East. As a specialist of the sphere I'd like to assure you, Mister Mayor, that Yerevan really has a big potential for development and our company is interested in the realization of the programs in Yerevan", said Said Tauk.
Expressing for willingness to cooperate Yerevan Mayor Taron Margaryan offered to form a working group which is to discuss concrete directions for cooperation in various spheres of urban economy to implement investment projects.