News
PM Discusses Operational Issues with 10 Major Importers' Representatives
19.12.2016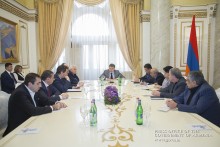 Prime Minister Karen Karapetyan received the representatives of 10 major Armenian importers in the Office of Government. The Premier took note of the problems faced by economic entities and the steps the Government should take to create favorable conditions for their activities.
The guests noted that paperwork, including customs clearance, has been considerably simplified recently. The logistics-related bottlenecks due to adverse weather conditions at the Upper Lars border checkpoint were said to be the most serious challenge at this point of time.
Karen Karapetyan said the Government is taking steps to develop new transport schemes through alternatives to Upper Lars in order to help economic entities organize both imports and exports under more favorable terms and in predictable time frames.
The meeting also discussed issues relating to importers' activities, including the possibility of organizing the production of a number of imported goods in Armenia.
***
Note that earlier Prime Minister Karapetyan had held a meeting with the representatives of 10 major exporters, at which he noted that the Government was going to provide effective assistance to enterprises in a bid to stimulate exports. In particular, export regulations will be subject to day-to-day monitoring in an effort to identify and eliminate the existing barriers.
Today's meeting focused on the problems encountered in foreign markets as to the sales of goods manufactured in the Republic of Armenia. The speakers noted the importance of developing mechanisms aimed at simplifying customs procedures.
The Premier emphasized that prioritizing the need to promote the activities of export-oriented companies, his government will be consistent in addressing the problems voiced at the meeting.