News
It has been instructed to inform public about terms of results of activities aimed at transport sphere improvements
19.12.2016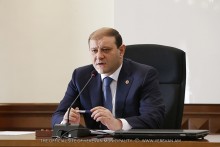 During the working meeting in Yerevan City Hall Mayor Taron Margaryan referred to the problems of public transport sphere and to the activities aimed at the improvement of the sphere.
Taking into account that the activities entered the practical stage, in particular, the international consultant had already been chosen, the Mayor instructed to inform public about the time when the results of the improvement activities can be expected.
"The consultant has been chosen and the treaty established the terms within which the consultant shall provide the package of the new itinerary network, of unified and e-ticket system installation. We set a clear task that as a result of improvements we must ensure installation of the transport system corresponding to modern standards which first of all must be convenient for our co-citizens and must not cause additional burden for them. Therefore it's necessary to provide information about the work done. In particular, present that in six months the whole package of improvements will be ready and after passing wide public discussion, the schedule for stage by stage installation will be determined. I am sure that due to coordinated work we'll be able to have the high-quality transport service so expected by the society", said Taron Margaryan.