News
Mayor Taron Margaryan visited National University of Architecture and Construction
20.12.2016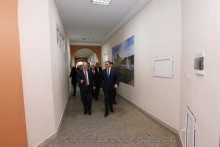 Yerevan Mayor, the chairman of the Board of Trustees of National University of Architecture and Construction of Armenia Taron Margaryan familiarized himself with the work accomplished in 2016 during his visit to the university.
Accompanied by the Rector of the university Gagik Galstyan the Mayor walked about the laboratories, visited the three new architecture studios opened within the frames of the 95th jubilee of the university and provided with all necessary equipment.
Presenting the work done Gagik Galstyan noted that as a result of large-scale construction activities and modern equipment the university now has got proper labs for all specializations which are the main stimulus for increasing the quality of education.
The meeting of the Board of Trustees of «NUAC Armenia foundation" chaired by Yerevan Mayor was held in the new assembly hall. During the meeting the report on the work done in 2016 and the budget for 2017 were presented and confirmed by the Board.
Summarizing the programs fulfilled by the university in 2016 the Mayor expressed gratitude to the staff of the university for the work done. Taking the opportunity Taron Margaryan congratulated the university staff on the coming holidays and wished that the year of 2017 will be a year of accomplishments.