News
PRESIDENT SERZH SARGSYAN RECEIVED THE RF COMMISSIONER FOR HUMAN RIGHTS TATYANA MOSKALKOVA
21.12.2016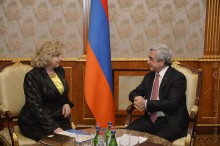 President Serzh Sargsyan received today the RF Commissioner for Human Rights Tatyana Moskalkova who has arrived to Armenia on official visit at the invitation of the RA Ombudsman for Human Rights.
The President of Armenia welcomed the guest to our country and expressed hope that Mrs. Moskalkova's visit to Armenia will promote and deepen the cooperation of the institutions dealing with the protection of human rights in the two countries. The intention is also testified to by the memorandum signed today by the Ombudsman of Armenia and the RF Commissioner for Human Rights.
Underscoring that the relations between the two strategic partners – Armenia and Russia – are developing encompassing different, mutually beneficial areas, President Sargsyan noted that active cooperation in the area of protection of human rights as well as the strengthening of democratic institutions constitute an important part of the Armenian-Russian agenda.