News
PRESIDENT SERZH SARGSYAN PARTICIPATED AT THE YSU BOARD OF TRUSTEES END-OF-THE-YEAR MEETING
23.12.2016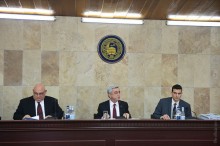 The President of Armenia, Chairman of the Board of Trustees of the Yerevan State University Serzh Sargsyan today participated at the end-of-the-year meeting of the Board of Trustees of the Yerevan State University Fund which took place at the Scientific Council Hall.
The members of the Board discussed and approved the report of the rector on the works conducted at the main directions of the YSU activities in the 2015-2016 academic year and assessed the activities of the University as satisfactory.
The report encompassed areas of education, scientific research, international cooperation, publications, public relations and information systems, works conducted with the students and alumni and social policy, as well as the works of the Ijevan branch of the University.
In the framework of the agenda items, Rector Aram Simonian presented to the members of the Board the information on the proceeds and expenditure of the YSU for Juanuary-November 2016 which was taken note of. For the approval of the Board members presented were the drafts for the YSU proceeds and expenses for year 2017, the structure and staff allocation for 2017 and the agenda item on the selection of the auditor on the financial activities of the University for 2017. The members of the Board defined the functions of the auditor which include the auditing and independent audit conclusion on the combined financial reports for 2017 of the Yerevan State Universtiy Fund, the audit of the preliminary budget of the revenues and expenditure of the Yerevan State Universtiy Fund and amendments for 2017 and the independent auditing conclusion.
Along with the agenda items, discussed were also current issues. The President of Armenia responded to the questions raised by the members of the Board.
At the conclusion of the meeting, the President of Armenia awarded the Dean of the Department of Oriental Studies, Candidate of Philological Science, Professor Gurgen Melikian with the First Degree Order for the Services Rendered to Fatherland for his significant contribution to the area of education and for his input to the education of young generations and patriotic activities.
President Sargsyan congratulated the celebrated intellectual on receiving the high state award, congratulated him and other members of the YSU Board of Trustees, the entire faculty and students of the University on the occasion of New Year and Holy Christmas, and thanked for the mutual work in the passing year 2016.
The President of Armenia recapped also year 2016 and spoke about the most important activities envisaged for year 2017.
Before the Board meeting, President Sargsyan accompanied by the Minister of Education and Science, rector of the University, members of the Board and deans of the departments toured the newly renovated sporthall of the YSU, the guest house, the branch of the University which hosts the Chairs of the Civil Defense and Medical Assistance, Physical Culture and Sports and familiarzed with the conducted works and created conditions.