News
PM holds New Year-dated festive reception for mass media representatives
26.12.2016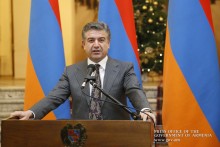 In connection with the New Year and Christmas holidays, Prime Minister Karen Karapetyan held a festive reception for mass media representatives in the Conference Hall of the Government. The Premier congratulated media representatives on the upcoming holidays and wished their families homely warmth, peace and love.
"I hope the New Year will give you the opportunity to meet with your friends and family members, exchange best wishes that may come true. I wish you back to daily work after the holiday Season with optimism and confidence in tomorrow, filled with energy, with a positive sense of aggression and intolerance to fulfill your mission and functions. I will make no secret of our expectation of criticism, advice and suggestions on your part, but we want them to be constructive, practical and professional. Also, please refrain from insulting or labeling people while criticizing them," the Prime Minister noted.
For keeping in spotlight and providing wide coverage of government activities, the Head of Government awarded souvenir watches and Prime Minister's diplomas to a number of media representatives.