News
It has been instructed to set proper control over the work of corresponding services
26.12.2016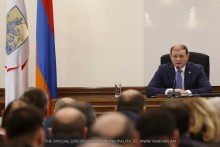 During the regular working meeting all the departments of the Municipality and municipal subdivisions were instructed by Mayor Taron Margaryan to set 24-hour duty during the holidays.
In particular, in order to ensure uninterrupted work of life support services the Mayor instructed coordinating persons in charge to work in tight cooperation with the companies "Yerevan Jur", "Yerevan gas", and " Electricity network of Armenia" and to solve the problems rapidly in case of emergency situations. It was also instructed to provide uninterrupted street lighting. Municipality subordinated medical services were instructed to work in extreme regime too so as to respond to the signals as soon as possible on the festive days The persons in charge were instructed to set rigid control over timely wastes removal and sanitary cleaning. Besides, tight control has been instructed over public transport work.
Duties will be organized in educational establishments too so as water and energy supply was provided uninterruptedly.