News
PRESIDENT SERZH SARGSYAN AND MRS. RITA SARGSYAN ON THE OCCASION OF THE APPROACHING HOLIDAYS HOSTED NUMEROUS CHILDREN AT THE PRESIDENTIAL PALACE
27.12.2016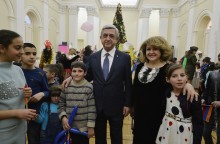 Today, on the occasion of New Year and Holy Christmas President Serzh Sargsyan and Mrs. Rita Sargsyan hosted at the Presidential Palace children and grandchildren from the families of the servicemen of the RA Armed Forces, participants of the Artsakh Liberation War, those who fell in the Four-Day April War, those who became handicaps, from the families of the Voluntary Union of the Homeland Defenders, families of the RA Police and National Security Service employees, some public organizations cooperating with the RA Ministry of Defense and also from the Republic of Nagorno Karabakh.
The lights of the Christmas tree installed in the Presidential Palace were lit in the presence of little guests, and the festive event started. On behalf of Mrs. Rita Sargsyan and his own behalf, the President of Armenia cordially congratulated the participants of the event and all children on the occasion of New Year and Holy Christmas and wished they all the best.
"Dear Kids,
Mrs. Rita and I cordially congratulate you on the occasion of New Year and wish that the approaching year 2017 become the best of all the years you have lived so far. We wish you to be joyful, happy and healthy in this new year; I also wish you to be successful in your studies, and if you study every day, dear kids, I am sure that many of you will come to this building later not only on the occasion of New Year but also to receive awards for winning in the contests such as Kangaroo, Bee, and others.
Dear Children, I want to ask you something: I want you in the early morning of January 1, when you wake up, go to your parents on my behalf thank them for raising you as good citizens, congratulate them on the occasion of New Year and promise that you will study very well because to study well is the best, the most important thing for kids. You should study well and work well and do very well everything your teachers and parents tell you," said the President of Armenia.