News
Prime Minister, US Ambassador Discuss Joint Efforts to Combat Corruption
28.12.2016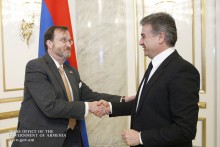 Prime Minister Karen Karapetyan received U.S. Ambassador to Armenia Richard Mills. The interlocutors discussed issues related to U.S.-Armenia relations and exchanged views on cooperation in the Government's anticorruption policy.
With reference to the activities of the Anticorruption Council, Karen Karapetyan said he was going to expand the scope of civil society representatives with a view to achieving stronger public feedback. Stressing the need to change the environment conducive to corruption, the Premier noted that the instructions issued at Cabinet meetings were aimed at reducing the risk of corruption through improved business environment, better quality of services and the enforcement of the one-stop-shop principle in different fields of activity.
In turn, Richard Mills said the U.S. government ready to continue supporting Armenia's anticorruption policy by extending the term of the agreement on the fight against corruption. In this regard, the Ambassador considered it necessary to outline the range of those specific steps and programs to be funded by the American side.
Highlighting the progress made towards curbing corruption in different fields of activity, the Ambassador made a point of continued efforts in this direction. Richard Mills said the United States was ready to provide expert assistance to promote the ongoing judicial and tax reforms.
Karen Karapetyan thanked the Ambassador for cooperation, noting that the Government of Armenia will soon present to the U.S. partners the areas of mutually beneficial cooperation.