News
Mayor Taron Margaryan familiarizes himself with activities fulfilled within Metro renovation program
29.12.2016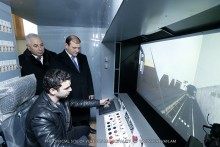 Yerevan Mayor Taron Margaryan visited Yerevan Metro after Karen Demirchyan, familiarized himself with the activities fulfilled within the frames of Metro renovation with the assistance of European Bank for Reconstruction and Development, the European Investment Bank and the EU Neighbourhood Investment Facility.
Mayor Taron Margaryan visited the center of machinists' training which according to the persons in charge, for years used to be a dream for the Metro The mayor was reported that the center makes it possible to train skilled specialists who will replenish the number of the Metro machinists. The Mayor was also shown the new washing station for passenger wagons.
Within the frames of the second stage of renovation program, due to saving financial means 4 wagons were renovated. Yerevan Mayor became one of the first passengers of the new train. it was noted that the modernized wagons are decorated with the photos of the new and old Yerevan. The mayor instructed to go on modernization of the rolling stock by means of saved finances. It was also instructed to keep under control the process of activities being fulfilled within the frames of the EBRD, EIB and NIF investment programs.
Mayor Taron Margaryan talked to the passengers, heard out their opinions regarding the quality of the services rendered.