News
Program of yard areas improvement has been presented
16.01.2017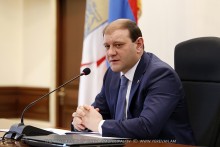 During the regular weekly working meeting in the City Hall Mayor Taron Margaryan was reported that corresponding studies had been made to implement the program of yard areas improvement and the current legal status of the constructions in yard areas had been checked out.
It was mentioned that all the yard areas to be improved had been taken into account and the program of yard areas improvement for 2017 had been made up. There are no legal obstacles to fulfil the program.
The Mayor instructed the heads of administrative districts to make the list of the yards which need improvement.
"We have legal obstacles to fulfil yard improvement program in 2017. However it should be taken into account that the program will be continued in the following years so while drawing up the programs we should take into account the results of the inventory. In 2018-2020 we will start the improvement of the yards overloaded with illegal odd constructions. So, from this day on we should take measures to free illegally occupied areas to fulfil our further programs properly", said the Mayor.