News
RA NA President Receives Newly Appointed Ambassador of Bulgaria
18.01.2017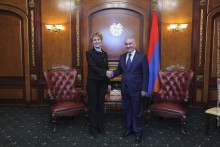 On January 18, the RA NA President Galust Sahakyan received the Ambassador Extraordinary and Plenipotentiary of the Republic of Bulgaria to the RA Maria Pavlova Tzotzorkova-Kaymaktchieva.
Congratulating the Ambassador on assuming her post, the Head of the parliament has expressed conviction that during her diplomatic mission the Armenian-Bulgarian relations will further develop and deepen.
In Galust Sahakyan's word, the old friendship and the numerous cultural connections between the two peoples serve as a favourable basis for the development of the Armenian-Bulgarian relations.
In terms of strengthening bilateral relations and deepening cooperation, the NA President highlighted the role of the parliamentary diplomacy, as well as Armenia-EU cooperation within the framework of the Eastern Partnership.
In the peaceful settlement of Nagorno Karabakh conflict, the Head of the parliament emphasized the balanced position of Bulgaria in harmony with the OSCE Minks Group Co-Chairs and the EU position.
Highly assessing the relations existing between the two countries, the Ambassador Maria Pavlova Tzotzorkova-Kaymaktchieva has gladly noted that the Armenian community of Bulgaria serves a bridge in the rapprochement and strengthening of bilateral relations. She has assured that during her diplomatic mission she will do her best to further develop and deepen the formed relations.
The interlocutors emphasized the close work between the Friendship Groups of the two parliaments and the deepening of cooperation at different international parliamentary platforms.
At the meeting, the two sides also discussed issues of bilateral interest.