News
Galust Sahakyan Attends Opening of Exhibition of Aragats Akhoyan's Works
21.01.2017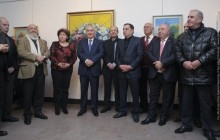 On January 17, the RA NA Speaker Galust Sahakyan attended the opening of the exhibition of the paintings entitled Return of the NA deputy Aragats Akhoyan, which took place in Hovhannes Sharambeyan Centre of Popular Creation. The Return is the artist's first personal exhibition, where every presented canvas is the expression of endless love and admiration towards native land.
The RA NA Deputy Speaker Hermine Naghdalyan, the NA deputies, members of the RA Painters' Union, artists and numerous art lovers went to see Aragats Akhoyan's works.
Highlighting the organization of the exhibition, the RA NA Speaker Galust Sahakyan congratulated the deputy and wished him new creative successes.
Aragats Akhoyan expressed his gratitude to all the attendees for participation and warm words.