News
RA NA Speaker Receives Ambassador of Japan
24.01.2017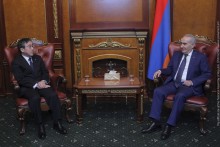 On January 24, the RA NA Speaker Galust Sahakyan received Ambassador Extraordinary and Plenipotentiary of Japan to Armenia Eiji Taguchi.
Welcoming the Ambassador in the parliament, Galust Sahakyan positively assessed the enlivening of the parliamentary relations between Armenia and Japan in recent years. He expressed hope that the activities of Embassy in Armenia, in its turn, will promote the development and strengthening of bilateral relations.
Touching upon the development and deepening of parliamnetary relations, the NA Speaker highlighted the role of the Friendship Groups of the parliaments of the two countries in that. In Galust Sahakyan's word, the expectations connected with the implementation of the Armenian-Japanese joint programmes and the further cooperation are great.
Thanking for accepting the invitation of the Speaker of the parliament on the previous year to visit Japan, Ambassador Eiji Taguchi also has noted that the Armenian-Japanese relations are smoothly developing step by step.
Referring to the visit of the delegation led by the RA NA Speaker to Japan, the Ambassador expressed that it will be an impetus to further develop the bilateral relations and actively cooperate in the spheres of culture, politics, economy and etc. In the Ambassador's word, during the visit the Armenian parliamentarians will have an opportunity to study the experience of Japan that passed to parliamentary government and connect to Japanese culture and history.
In the course of the meeting other issues concerning the upcoming visit were discussed.