News
New Board of RPA is elected. Meetings of RPA Executive Body and Board are convened
26.01.2017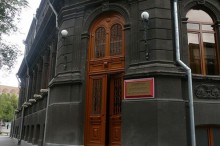 Today the meeting of RPA Executive body was held, headed by the RA President, the RPA President Serzh Sargsyan. It was followed by the meeting of RPA Board.
"The new Board including 35 new members has been elected. Vice-Presidents of the party have been elected. The first Vice-President of the party has been elected the member of RPA Executive Body, the RA Prime Minister Mr. Karen Karapetyan. Mr. Mushegh Lalayan, Mr. Galust Sahakyan and Mr. Armen Ashotyan have been elected RPA Vice Presidents", RPA Spokesperson Eduard Sharmazanov said after the meeting.
At the course of the meeting new heads of subdivisions were elected. Taron Margaryan has been elected the Head of RPA Yerevan organization, Hermine Naghdalyan – the Chairman of RPA Women's Council, Karen Avagyan – the Head of RPA Youth Organization, Ruben Tadevosyan – the Chairman of RPA Organizational Commission, Mushegh Lalayan – the Chairman of RPA Ideological Commission, Razmik Stepanyan – the Chairman of RPA Commission on Physical Culture and Sport.