News
REMARKS OF THE PRESIDENT OF ARMENIA, CHAIRMAN OF THE RPA SERZH SARGSYAN AT THE RPA SESSION
26.01.2017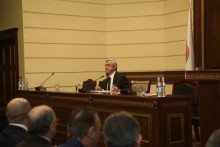 Distinguished Colleagues,
I congratulate you all on the occasion of being confirmed as members of the Council of Armenia's Republican Party. In some cases, it's been re-confirmation, for others – it's been the first time they were elected as members of the Council. I would like to congratulate in particular our young members, members of our youth structure. I am confident that they have come to our Council to bring new vigor, new enthusiasm, new agility, and new energy.
On Saturday, I held a very good meeting with our youth structure. It is no exaggeration to say that we have brilliant young people, and as I have mentioned here, we can without any reservation entrust them the future of our country. I am confident that young members of the Council will be very hard working and have come here to participate with new vigor in our reforms.
Being a part of the representative body of the country's leading political force, in my understanding, is not a privilege, or some kind of anticipation but an additional heavy responsibility. Under the new Constitution, the level of participation of the political parties in our country will change as will change the scale of partisan work and its pattern. I have no doubt about that. This Council will have a much greater participation in the discussion of various topics and certainly in the decision making – more active than it's been until today. And this is true not only for our Party but for all parties. I believe all political parties, which will continue their activities in the future, should work in this mode.
I wish you all success in the partisan work, state service, and personal life.
Our main task today is certainly to get ready for the upcoming parliamentary elections and present ourselves at our best. Our starting point is excellent; we are ready to present to the public that we clearly assess real problems we face, that we have the most realistic programs, which will ensure tangible progress and the most importantly – we have the most viable team.
Our Party is the one which forms the agenda for the political field and sets the bar, and it has been so for a while, at least 10-12 years. Some may like it, some may not but this is the truth. Thus, along with presenting our own programs, our first duty is to conduct good elections in the framework of the new Electoral Code, in accordance with the new constitutional provisions. So far, we have done our best to organize that very kind of elections, and we will continue in the same spirit. When the representatives of the opposition and civil society were negotiating over the new Electoral Code, there was not a single provision that we were not constructive about, that we didn't make reasonable concessions about, in order to have an electoral code which would be adopted through the political accord. This is unprecedented not only for our country but in general practices, which means we need to cherish our contribution to this process.
As you know, there are certain reservations in the political field related to the designating April 2 as the election day. Our lawyers have cogent arguments that legally it is the most efficient solution and expert opinions on that are yet to be stated. I believe. Mr. David Harutyunian will respond tomorrow to all written inquiries that we have received.
To be honest, beside the legal formulations, I have certain concerns myself. I wanted to dedicate April 2 and few subsequent days to our hero boys, to their memory, to honor them. I wanted in those days to present to our public the huge amount of work carried out in the army building area in one year that passed since the April War, new solutions, and new achievements. I wanted us together to reassure our people, to reassure the world that we will act the same way in all similar cases. Of course, we do it even now, regardless of the elections. I was not opposed at the moment I signed the decree and I am not opposed now to move the elections for 4 or 5 days. But let's wait a little more, when all participants to the elections will become known, and we can come to an agreement with them – all without exception. I believe there will be no problem to move the elections for a couple of days. If we reach a political agreement, I am sure our lawyers can easily find legal arguments to support it, and the election process will not suffer. But let's be patient, wait and see.
As for the political alliance being formed these days, it is a very healthy and commendable process. As you remember, during the discussions on constitutional changes, we insisted that there should take place the enlargement of the political establishments, political institutions, alliances should be formed and we would have a more stable and efficient political field. A little more than a year has passed and there you are, we were right in assessing the process. For at least fifteen years we were hearing that the political field in our country was not formed yet, that parties in our country didn't become larger. We were talking, different recipes were offered but there was no process. I am confident that after the elections, these alliances will become parties. Small parties will certainly remain but they will not have any role, and the parties will become larger. For our country, it is a necessity, and I want first of all you and our people be assured that the ideas, which became the Constitution, will be there. There may be some inconsistency, certain minor problems may arise but we are changing the entire system, we are creating a new one and inconsistencies in this case, existing minor problems, I believe, will not become obstacles and will not pose huge problems. When people build homes, hundreds of issues arise, then they build a second one, but already mindful of the mistakes, blunders. We are changing the state governance system, and we all need to be certain of what we do.
A couple of words, just a couple of words on other current issues of interest, including the return of Gagik Tsarukian to the political field and the formation of the alliances. In brief, I did not welcome the return of Gagik Tsarukian to the political field; as for the formation of the alliances or participation of different political forces to the election campaign, as I have already said, I see it as a positive development. The next issue is more than preposterous: attempts of some to argue that there is an alleged exodus from the Republican Party is simply ludicrous. What can I say? You know all too well that it's absurd. In recent months, over 11000 people joined our Party. I would like to respond to this in the allegoric way: you see, major rivers throughout their course move forward, give life, give bread and water, while small springs, which come out the main river and do not come back to it shortly, dry out and disappear. This is the law of nature and nobody can defy the laws of nature; we may try to regulate, control but in the end it will be that way.
In internal, foreign and economic policy issues, the Republican Party has very precise programs and approaches. On these programs and challenges depend who will be in the legislative body, in case of a desired outcome at the elections, who will be in the executive body, and who will be engaged in the Party's ideological, propaganda works. For us, it has never been an issue of personalities and it is not now. The issue is the efficient implementation of our programs and thwarting of the challenges. The parliamentary model of the Republic requires new solutions. Presenting our candidates for the legislative and executive bodies of power, we will be guided not by the ambitions but rather by the abilities and faculties of each candidate to contribute to the advancement of Fatherland. No hard feelings. Our activists are where they are demanded. I will not tolerate unnecessary jostling.
I am thankful to all those, who have been helping us. I am thankful to all those, who have said kind words about the Republican Party. I am thankful to all those, who have chipped in; but I have never tolerated and will not tolerate, will not distinguish people based solely on their own perception of themselves.
I see who works and how much, I see who works and how, and on this I give my own assessment. Should every one of us decide where he or she wants to work, what he or she should do it, will become, sorry, a total disarray. Our responsibility is huge, so huge that probably the majority of our people don't even imagine. I will repeat this again and again, power is not a delight, is not a means to provide for one's own well-being. Power is first and foremost responsibility.
I am confident that we will have a more efficient and comprehensive involvement of the political parties in the resolution of the problems facing our country. We will ensure everybody's involvement. If someone believes that his or her huge potential is not being utilized fully, we will suggest they find a more favorable environment.
Thank you.