News
RPA Youth Representatives participated in a 3-day program, organized by Konrad Adenauer Foundation
20.02.2017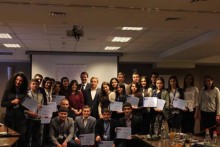 On 17-19 February at "Hyatt Place" Hotel on the joint initiative of Konrad Adenauer Foundation /KAS/ and RPA Youth Organization a 3-day program on the theme "Perspectives and challenges of the new Constitution in the context of the Parliamentary Elections 2017" was held for the young Republicans from regions. About 20 representatives of RPA YO participated in the program.
The Head of RPA Youth Organization, the NA Deputy Karen Avagyan welcomed young people and highlighted the role of such programs especially in the period of electoral processes, underlining among them Political School named after Andranik Margaryan.
The program was attended by KAS scientific associate Benjamin Fricke and KAS Yerevan office project manager Liana Marukyan. Thematic part of the program opened RPA Vice-President Armen Ashotyan, whose lecture touched upon spreading ideas and information through various information sources. The RPA Vice-President spoke about pre-election programs of various political forces, social pre-elections campaign, content of the pre-election campaign and populism.
The Chairman of RPA Organizational Committee Ruben Tadevosyan introduced details of activities carried out at pre-election headquarters. Docent of the YSU faculty of sociology Nvard Melkonyan represented essential elements of political image-makers.
On the final day of the program the member of RPA Board, the Executive Head of RPA Political School named after Andranik Margaryan Hayk Mamijanyan represented the basics of rhetorical art, the art of public speech and interviews. The final lecture on the theme "Infographics as a electoral campaign tool" was delivered by the graphic designer, blogger, Sedrak Mkrtchyan.
At the end of the program participants were awarded certificates.