News
PM meets with businessmen from 6 Marzes who have submitted 11 investment programs
21.02.2017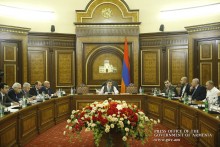 Prime Minister Karen Karapetyan met with businessmen from Lori, Tavush, Gegharkunik, Shirak, Ararat and Aragatsotni Marzes of Armenia who had submitted 11 investment programs. The meeting discussed ways of implementing these programs.
The Prime Minister was briefed on the work carried out in terms of implementing a feasibility study and supporting the projects. It was noted that the lending process has already started: loans for most of the programs are being provided.
Karen Karapetyan asked about the agreements reached with relevant government agencies over the further course of investment programs. In response, the entrepreneurs expressed satisfaction with the joint work and noted that a broad arrangement has been made concerning the proposed tools and co-financing. "Study has shown that the main financial burden falls on the State, but we want businessman to take over 60, 70, 80 percent of the workload, and if necessary, we can provide the balance of 20, 30 percent to propel and catalyze the process. We want you to thrive and be successful, but you should understand our own interest: I want to help you in business so that tomorrow, the day after tomorrow, we would be able to continue if you could get a macroeconomic effect," the Prime Minister said.
The following investment program were discussed: expansion of a farm in Amrakits community and Rosefruit unit in Vanadzor, strawberry production development with the use of modern technologies in Ijevan town of Tavush Marz, expansion of a cattle breeding farm and development of a cheese plant in Vardenis town of Gegharkunik Marz, Smart House system development and construction of Basen hotel complex and a shopping-catering center in Gyumri, expansion of a slaughterhouse and a production line for waste management in Masis town of Ararat Marz, development of Voskevaz winery and new tourist destinations in Aragatsotni Marz, manufacture of products resulting from metal grinding and processing in Ashtarak and establishment of Ecommunity district in Saghmosavan community.