News
PRESIDENT SERZH SARGSYAN MET WITH THE PRESIDENT OF THE EPP JOSEPH DAUL
27.02.2017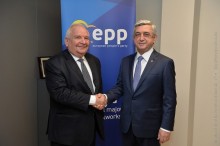 President Serzh Sargsyan's working visit to the Kingdom of Belgium has started. This morning in Burssels, the President of Armenia met with the President of the European People's Party (EPP) Joseph Daul at the headquarters of the EPP.
The parties spoke about the prospects of development of the Armenia-EU relations, the process of the comprehensive reforms going on in Armenia, including the transition to a new system of governance after the changes made to the Constitution, works aimed at the further development and strengthening of the democratic institutions, and preparation for the parliamentary elections to be held in April.
Serzh Sargsyan and Joseph Daul discussed also issues related to Armenia's cooperation with the EPP partners at the international platforms, general problems and challenges, as well as exchanged views on the strengthening of the interpartisan ties.
Noting, that the agenda of his working visit to Belgium is full of substantial meetings and discussions with the leadership of the European Union, the President of Armenia acknowledged a prominent role of the EPP - as the most influencial political force in Europe - in the deeping of the relations between Armenia and the EU. President Sargsyan stressed the importance of a continuous deepening of cooperation between the Republican Party of Armenia and EPP and expressed gratitude for the constant readiness to provide support and practical assistance to Armenia and RPA.
In this context, the parties stressed also the importance of the coopeation with EPP in different interparliamentary platforms aimed at the protection of human right and liberties, development of democratic institutions, social, humanitarian and cultural cooperation.
The President of Armenia and President of EPP spoke also about the NK problem. Serzh Sargsyan presented the positon of the Armenian side related to the resolution of the conflict, the situation at the NKR-Azerbaijan line of contact, permanent violation by the Azeris of the ceasefire regime, provocation and steps aimed at the escalation of the situation.
Noting that the NK conflict remains the gravest challenge to the regional security and security in Europe, President Sargsyan underscored that Armenia, just as the Co-Chairs of the OSCE Minsk Group, sees no alternative to a peaceful settlement and unlike Azerbaijan doesn't want to see our region engulfed once again in the nightmare of war. President Sargsyan reiterated that Armenia will spare no effort together with the OSCE Minsk Group to solve the conflict through exclusively peaceful means, which according to the President, is the shared approach of the international community.
At the meeting, the President of Armenia expressed gratitude to the President of EPP for the invitation to participate at the EPP political summit which will take place late March in Malta.