News
Yerevan Mayor Taron Margaryan met with Paris Mayor
09.03.2017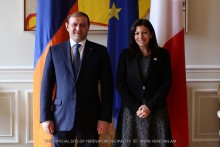 Within the frames of the RA President Serzh Sargsyan's official visit to the Republic of France Yerevan Mayor Taron Margaryan met with the Mayor of Paris Ann Hidalgo. Greeting his Yerevan colleague Paris Mayor first of all thanked Mayor Taron Margaryan for the consistence and willingness aimed at strengthening and developing the ties between Yerevan and Paris adding that she considered this meeting to be not only a protocol one but also a fine opportunity to meet a good friend again.
"Mister Mayor, I am very happy to host you in our capital and I am sure that with this meeting the cooperation between Yerevan and Paris which is successful indeed will get a new stimulus. I hope that our capital will be able to pass you a particle of the warmth I felt being in Yerevan. Be sure that that during my last visit the days spent in Yerevan became unforgettable impressions for me and I returned to Paris full of pleasant impressions of the master of hospitability-Yerevan. And today I am hosting you as a good friend of mine", stressed Ann Hidalgo.
Expressing gratitude for the warm welcome and friendly words Yerevan Mayor Taron Margaryan in his turn attached particular importance to cooperation expansion and development between the two capitals and stressed once again that there is really a wide field for interaction between Yerevan and Paris which makes it possible to develop joint projects in the spheres of local self-governance, economical development, tourism boosting, investments attraction and in a number of other spheres of urban economy.
"Respectable Mrs Mayor, strengthening the friendship and partnership between the two capitals, working out of bilateral programs and cooperation in various spheres are highly important for Yerevan and I am sure that in near future we will gain new achievements which are expected and important for the residents of the two capitals. Yerevan Municipality attaches high importance to strengthening the cooperation with the French partner cities and districts and be sure that in this context Paris is of particular significance for us", said Taron Margaryan.
During the meeting the parties exchanged thoughts about the process of cooperation programs and about the implementation of scheduled activities.