News
"We are eager to see that our major enterprises are successful" - Karen Karapetyan visits mining companies in Syunik Marz
12.03.2017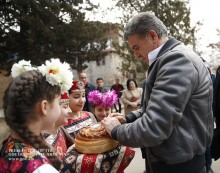 On the second day of his working visit to Syunik Marz of Armenia, Prime Minister Karen Karapetyan visited the Agarak Copper and Molybdenum Combine.
The Prime Minister was briefed on last year's financial results and the 2017 forecasts of market response and the expected output volume. Karen Karapetyan noticed that the management should not assume the stance of a passive observer waiting to see when the market turns favorable. He suggested submitting a business program to the government, a package of measures, investments and actions that might help raise the efficiency of the enterprise. The Premier voiced readiness to discuss ways of supporting the company.
"We are eager to see that our major enterprises are successful and that investors are pleased with the rate of profitability, because its multiplier effect is the pledge for everyone's well-being. That implies wages, new jobs, social responsibility and, finally, taxes. We look forward to receiving your proposals and recommendations on improving the financial situation of your enterprise," the Head of Government said.
Karen Karapetyan left Agarak for the Zangezur Copper and Molybdenum Combine. The Head of Government toured the site inspecting the current situation and the proposed development programs.
The Prime Minister called at Syunik Food factory under construction in Syunik community of the Marz. The company is going to engage in the processing of canned fruit and vegetables. The Premier was briefed on ongoing activities, output projections and exports. About 210 jobs were said to be made available under the planned investment project.