News
PRESIDENT SERZH SARGSYAN CONTINUES HIS VISIT TO THE RUSSIAN FEDERATION
15.03.2017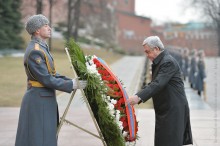 President Serzh Sargsyan, who is in the Russian Federation on official visit, this morning visited the Moscow and New Nakhijevan Diocese of the Armenian Apostolic Church.
After lighting candles at the Saint Transfiguration Cathedral, the President of Armenia and his delegation visited the Monument of the Unknown Soldier, laid a wreath and paid tribute.
In the afternoon, President Serzh Sargsyan will leave for the Grand Palace of Kremlin where he will meet with his colleague, the President of Russia Vladimir Putin.