News
Each item of expenditure, any decision should be followed by a numeric answer - Karen Karapetyan Visits Ministry of Agriculture
11.04.2017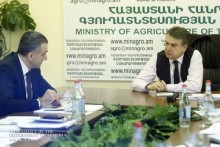 Prime Minister Karen Karapetyan visited the Ministry of Agriculture. At a consultation held on the spot, the speakers presented the Ministry's ongoing projects, results, prospects of international cooperation and development programs. First, reference was made to the 2017 development program for spring wheat, buckwheat, peas, peas, barley, corn, alfalfa and sweet clover.
It was reported that the process of import and supply of seeds was already in progress. Some of them were acquired in Gyumri selection station, which provides seeds at a much lower price. The Prime Minister stressed the importance of the development and expansion of the Gyumri selection station and commissioned those responsible to submit an appropriate program within a short period of time.
"Why we have not yet estimated what to do to reduce dependence on the outside. We keep saying that we imports should be substituted. Hence, we need to study what Armenia is importing and what we can do for it. Why do we not address the seed sector, if we have a seed-breeding station? If we are talking about replacing the imports with domestic goods, if we have something that works well, it should broaden its activities. A closed joint stock company has to be established based on the Gyumri selection station, which may become a normal commercial institution, engaged in seed production and trade. Seeds need to be made a profitable business instead of providing ever larger subsidies every year," Karen Karapetyan noted.
It was reported that in order to properly organize the spring agricultural campaign, the supply of fertilizers and diesel fuel is already in process with strict financial discipline. AMD 1.5 billion will be saved up due to better targeting and greater efficiency in the process of diesel fuel distribution. The Prime Minister stressed the need for showing a tough attitude in making spending decisions.
"We need to understand why we are spending and what will be the result. Each item of expenditure, any decision should be followed by a numeric answer. I need figures in order to realize the expected outcome. Other solutions will not be accepted. Analysis, monitoring and words like that should be used least: we must be short-spoken with a focus on money and results," the Prime Minister said.
The Prime Minister was informed that the Ministry is working on the production of organic fertilizers in Armenia. Experiments have shown that it is more efficient and cost-effective. The investment package will be submitted to the Government.
Karen Karapetyan was briefed on the ongoing efforts aimed at introducing an agricultural insurance system, developing extensive gardens and orchards, importing anti-hail nets at affordable prices, implementing programs for the lease of agricultural machinery and applying drip irrigation on farmland.
A pilot project is planned to be available as loans for the purchase of agricultural raw materials, which will be guaranteed by an agreement between the milk processing companies and farmers, and the farmers will get the purchase price at the time of purchase.
Reference was also made to improving soil fertility, agricultural zoning, organizing training courses for farmers, cooperative programs and activities of the Agricultural Development Fund.
Prime Minister Karapetyan highlighted the need for effective and strict implementation of all programs. Coming to the activities of the Agricultural Development Fund, the Premier stressed the importance of its high profitability. He pointed to the need for getting private investors engaged in highly profitable and quick-return programs and funneling cheap credit funds toward strategic projects.
"The Fund should turn into the tool with which to develop farms, drip system, intensive gardens, implement leasing programs, provide consulting service in a bid to change the state of affairs," the Head of Government said, emphasizing above all the need for consistent effort.
"What do I expect? We should suggest and introduce something that can bring in profit. You need to have N number of recipes for happiness. We must introduce the necessary toolkit that will lead to solving problems," Karen Karapetyan said and urged the stakeholders to implement all the projects on time and with high efficiency.