News
Mayor Taron Margaryan familiarizes himself with restoration projects of historical and archaeological reserve-museum "Erebuni"
22.04.2017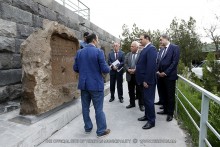 During the working visit to the historical and archaeological reserve-museum "Erebuni" Yerevan Mayor Taron Margaryan was present at the event called "Cultural heritage of Yerevan and sustainable tourism". Within the frames of the event the restoration projects of the reserve-museum were presented.
The persons in charge presented the Mayor the copies of cuneiforms of the Van kingdom period paced at the entrance to the museum.
Introducing the program for partial reconstruction of the fortress of Erebuni and improvement of the quality of services which will be fulfilled at the initiative of Yerevan Municipality within the frames of the activities attached to "Erebuni-Yerevan" 2800th anniversary the persons in charge outlined that the program consisted of 9 separate components. They also pointed out that the authors' group of the project includes archeologists, historians, architects, geologists and best specialists of fresco restoration.
Presenting his notes concerning the project realization and stressing the particular importance of the program Mayor Taron Margaryan noted that its implementation gives a fine possibility to present the history of Erebuni-Yerevan foundation, to improve the facilities of the museums and to promote tourists flows increase.
The Mayor set a concrete requirement to bring the program from drafting stage to the stage of practical realization and to complete it within determined time.
During the visit Yerevan Mayor was also presented the program proposals for restoration of "Shengavit" and "Karmir Blur" reserves and for creation of appropriate infrastructures. Attaching importance to the programs Mayor Taron Margaryan instructed to present these projects to the public.
"Restoration of historical and archaeological reserve-museum "Erebuni" as well as the implementation of the proposals for "Shengavit" and "Karmir Blur" reserves and creation of appropriate infrastructures are very important for Yerevan. We must do our best to present the centuries-old history of our capital would be properly presented both to townspeople and to the guests of Yerevan", said the Mayor of Yerevan.
The presentation of the catalogue of the reserve-museum "Erebuni" was also held during the event. The trilingual catalogue gives information on the culture of Urartu and Armenian Plateau in the first millennium BC.