News
Galust Sahakyan Attends Opening of Fridtjof Nansen Classroom
25.04.2017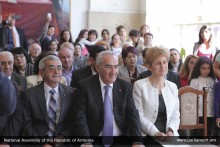 On April 25, the RA NA Speaker Galust Sahakyan took part in the event, which took place in Yerevan Peyo Yavorov Basic School N 131.
Every year the school marks festival of culture, and according to formed tradition, calls one of the classrooms by the name of the Armenian people's benefactor, be an Armenian or a foreigner.
This year geography classroom of a Norwegian Arctic explorer, Armenian people's great friend Fridtjof Nansen was opened, where the great humanist's photos, excerpts and sayings from traveler's notes are shown.
In the foyer Galust Sahakyan listened to the school choir, accompanied by the director took a tour in the classrooms named by famous people, in Peyo Yavorov's Museum, then took part in the opening of Nansen's classroom.
Afterwards the NA Speaker attended the event dedicated to Fridtjof Nansen, during which the pupils presented episodes from the great humanist's biography and activities, which related to the Armenian people's destiny and the fair solution of the Armenian Cause.