News
Inspection Reform Coordination Council Holds Meeting
05.05.2017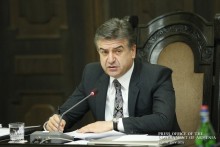 Prime Minister Karen Karapetyan chaired a regular meeting of the Inspection Reform Coordination Council, which was held in the Office of Government. The Council discussed and approved a bill to create an educational inspectorate by the Ministry of Education and Science.
The proposal was said to have been discussed with the government departments concerned. The bill provides that the standing department of education by the Ministry of Education and Science shall be dissolved within three months after the adoption of a relevant decision, while the State Language Inspectorate will be dissolved by this yearend. Referring to the ongoing inspection reform, the Prime Minister noted that it should be implemented boldly and rapidly with strict control; any problem should be addressed on the run.
The meeting next discussed and approved the inspection checklists of the Market Surveillance Inspectorate of the Ministry of Economic Development and Investment (MSI). It was noted that in accordance with the Prime Minister's recommendation and proceeding from the requirements of the Law on Inspections, the MSI has revised and simplified 27 checklists. The number of questions has been reduced by 80%. The MSI has the authority of supervising 32 areas. 5 checklists have already been approved by the Government.
The Council approved three checklists to be used by the State Food Security Service of the Ministry of Agriculture during inspections in farming, fisheries and slaughterhouses. The draft is expected to streamline the control mechanisms in this area.