News
PRESIDENT SERZH SARGSYAN RECEIVED GOVERNOR OF SAINT PETERSBURG GEORGI POLTAVCHENKO
05.05.2017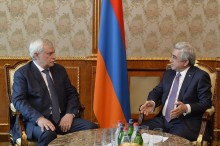 President Serzh Sargsyan received today Governor of Saint Petersburg Georgi Poltavchenko who has arrived to Armenia in the framework of the Days of Saint Petersburg in Yerevan program.
The President of Armenia welcomed the guest and stressed the importance of conducting Days of Saint Petersburg in Yerevan project which has become a good tradition. According to the President, the project provides an efficient platform for the discussions related to the expansion of cooperation between the two cities. President Sargsyan underscored that the dynamically developing relations with the regions of the Russian Federation constitute an important element of the interstate relations and noted with satisfaction that the relations between the two strategic partners at the level of decentralized cooperation strengthen and deepen by year.
Governor Georgi Poltavchenko thanked the President of Armenia for receiving him and praised the high level of the relations established between Saint Petersburg and Yerevan. According to Mr. Poltavchenko the basis of these relations, especially in recent years, have been the results of the works conducted through the joint efforts in different areas, including a certain increase in trade turnover.
The parties discussed the opportunities and prospects of developing the bilateral cooperation.
Governor of Saint Petersburg and the Mayor of Yerevan present at the meeting expressed readiness to continue to work consistently on developing and deepening the relations between the two cities.