News
PM Introduces Newly Appointed Minister of Justice David Haroutunyan
30.05.2017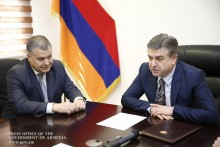 Prime Minister Karen Karapetyan introduced today newly appointed Minister of Justice David Haroutunyan to the Ministry Staff.
Congratulating David Haroutunyan on his appointment to the new position, the Premier stated in part, "The Ministry of Justice is an important link in the government, given the challenges stemming from the adoption of the new Constitution and the ensuing legislative amendments. In general, we have formulated our vision of what kind of Armenia we want to see in the future. Like elsewhere, the lack of justice or fairness is perceived as a serious problem in Armenia. In this regard, I would like to wish Mr Haroutunyan productive work."
Karen Karapetyan pointed out that Davit Haroutunyan is a great professional and has an important mission and key functions to complete. The Premier expressed confidence that the Ministry of Justice will succeed under the leadership of the newly appointed Minister.
David Harutyunyan extended a special vote of thanks to all his predecessors for the work done so far and went on to assure that he would build on the current achievements.