News
PRESIDENT SERZH SARGSYAN ATTENDS CHARLES AZNAVOUR HOUSE MUSEUM KEY HANDOVER CEREMONY
01.06.2017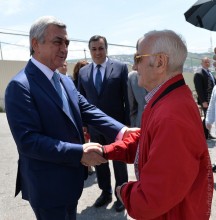 President Serzh Sargsyan attended a ceremonious event held at the Charles Aznavour House-Museum, during which the key of Charles Aznavour House Museum was handed over to Aznavour Foundation by the State.

***
President Serzh Sargsyan's Remarks at Charles Aznavour House-Museum Key Handover Ceremony
Dear Friends,
Dear Charles,
I am very happy to be here today and enjoy this warm and nice atmosphere in the Charles Aznavour House-Museum, which makes credit not only to Yerevan, but to the whole society of Armenia.
Yerevan is rich in tourist attractions, historical sites and cultural centers, but this house-museum adds relish to Yerevan and gives new impetus to our cultural life.
There is no need to introduce Charles Aznavour. He is already well known, the Maestro. We are happy to be your contemporaries and regularly enjoy your art and your performances. In fact, you are performing rather than signing on the stage, since every song of yours is a full-fledged artistic performance.
Aznavour is a legend, a walking legend, which belongs not only to France, Armenia and the Armenian people, but to the whole humanity. The Armenian-French relations are interconnected by thousands of ties and the proof of that is that the last three presidents of France – Jacques Chirac, Nicolas Sarkozy and François Hollande – have visited Armenia. François Hollande has paid three visits to Armenia; twice as the President of France.
I do hope that this tradition will be upheld by President-elect Emmanuel Macron, and together with you, dear Maestro, we will host him in this house-museum.
I wish you robust health, long life so that we could enjoy your art many years ahead. Thank you very much for accepting the proposal to have a house-museum in Yerevan. It is an honor for us, and you may rest assured that we will live up to the honor. Thank you and accept my congratulations.